For a presentation of Prospects please contact Steve Benediktson @ Ph. 403-554-5653
or Greg Johnson @ Ph. 403-630-1455
Taylor Hill Exploration Ltd. has internally generated, unrisked "Prospective Resource" estimates for its prospects. A request can be made in writing for these. Taylor Hill Exploration Ltd. may, or may not, provide these estimates to third parties at it's own discretion.
Prospect maps only show Taylor Hill land (yellow) when the company holds the geological rights to zone which is mapped.
Taylor Hill Exploration Ltd. is authorized to engage in the practice of Geoscience in Alberta under APEGA Permit to Practice # P10149.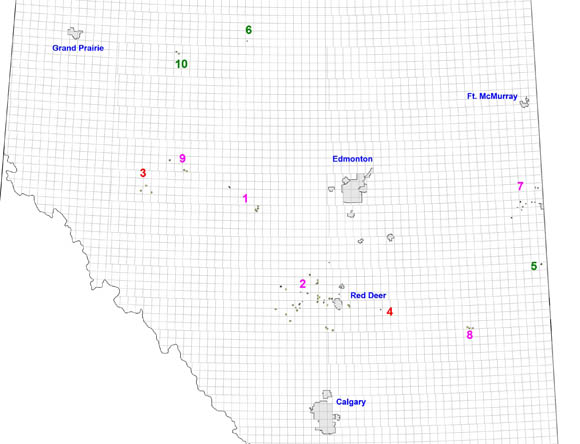 Taylor Hill Exploration Ltd. acquires mineral leases on prospects which are made available under negotiated terms. In all cases a 100% working interest is made available and Taylor Hill controls either all, or a portion, of the land on a prospect. Taylor Hill prefers to negotiate deals on multiple prospects but will consider deals on individual prospects. The company will usually give better terms on larger deals. The company does not typically acquire seismic on its prospects. In most cases potential exists in multiple zones ("multi-zone potential") where the objectives are defined by subsurface geological mapping. In the past the technical data have enabled purchasers to raise public funds based on accretive independent engineering firm evaluations. Usually preparation for drilling requires additional technical information, which may include seismic and the acquisition of additional land. In some cases this may require negotiation with adjacent landowners. These prospects target light oil, natural gas or many have potential for both in different formations. Large land packages usually exist on "Resource Plays" and usually an inventory of "bypassed pay" opportunities exist. A more complete summary than shown on the website with reserve potential may require the execution of a Confidentiality Agreement.

Confidentiality Agreement (Click on the link to view/download Agreement)